5th Massachusetts Battery (E)


Light Artillery
Army of the Potomac, Inc.
5th Massachusetts Battery (E) of Light Artillery, Inc
Reactivated --Present Battery
It was in the winter of 1964 that two Civil War enthusiasts, college students in the Boston area, conceived the idea of re-activating the 5th Massachusetts Battery, Light Artillery.
Both had a keen interest in Civil War history and the 5th Massachusetts Battery, its notable performance during the Rebellion, and the fame and glory it brought to the Bay State from 1861 to 1865. It was with these thoughts in mind that they were inspired to organize a unit commemorating the Battery and its gallant officers and men.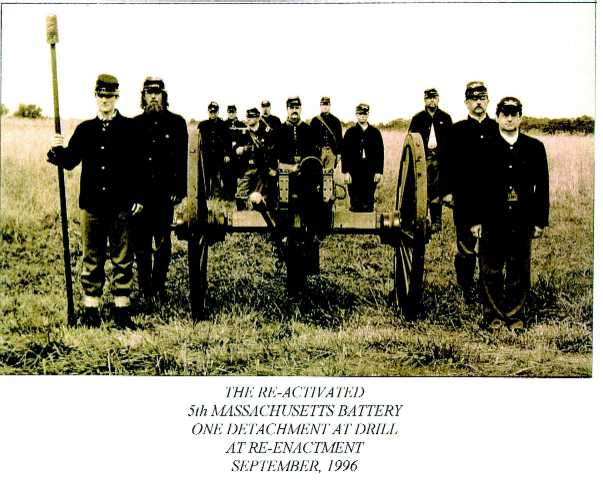 The re-activated 5th Massachusetts Battery was conceived to be, and is, a living memorial to the men in blue, who fought "that this nation might long endure", and to those in gray who symbolize American courage and individualism, as well as to the soldiers, sailors and marines of all American wars who have fought for the cause of freedom. In the early winter and spring of 1964, the embryonic framework of the Battery was mustered in and the organization became a reality.
The Battery was founded to be an active, as well as an historical organization, to participate in parades, patriotic ceremonies, living history events and shooting competitions with uniforms, standards and arms of the period.
In the Fall of 1965, in accordance with the laws of the Commonwealth pertaining to Massachusetts Corporations,. General Laws, Chapter 180 The original eight members and their successors, became legally organized and established as a Corporation. The legal title of the organization is the 5th MASS. BATTERY (E) LIGHT ARTILLERY, ARMY OF THE POTOMAC, INC.
Over the years the Battery has grown and prospered; its current membership is approximately 55. The Battery itself presently owns two full scale reproduction 3" Ordnance Rifles, limbers and ammunition chests, with associated trailers. Also, it has purchased a complete set of reproduction period harness "hitch" with plans to horse draw a limber with gun.
As time goes on, and the Battery grows the organizational structure has changed to accommodate the growth and to stay with present day challenges. As an example we have been granted 501 (c)(3) statues by the IRS.