NOTE: The following account of William Archibald Waugh's remembrances of his life during the Civil War was written in the spring of 1908. It was copied by hand by his son, Fred T. Waugh in 1943. This copied manuscript is in the possession of William's great grandson, Daniel Clarke Waugh, currently living in Seattle, Washington. Daniel sent a copy to William's great-great granddaughter, Carol Ann Waugh of Denver, Colorado, who computerized it in 1994. Carol sent a disk to her brother Rich Waugh of Fort Lauderdale, Florida, who spell checked it, formatted it in HTML and added the photographic links to the Library of Congress. The grammar and punctuation, except where noted by brackets, were left as originally written.
The document was then posted to the internet at http://www.pompano.net/-rwaugh/CiviIWar.htm where the members of the 5th Massachusetts reenacting unit found it. After the original document disappeared from the web, the unit scanned in the original document and posted it to our web site at http://www.fifthmass.org to continue to make it available to the public. The photos originally included in the document were lost but we have left in the references to them in case we ever run across the original again.
COPYRIGHT N
OTICE: The Waugh family owns the copyright for this manuscript; it is NOT in the pubic domain. The 5th Massachusetts Battery has received permission from the Waugh family to present this document on our web site on a non-exclusive basis.
c
A printed, illustrated, version of this manuscript can be found in the Gettysburg National Military Park library, Gettysburg, Pennsylvania 17325-2998.
Reminiscences of the Rebellion
…or what I saw as a private soldier of the 5th Massachusetts Light Battery from 1861-1863
by William Archibald Waugh (Born 1843)
Although it is nearly thirty years ago since the 5th Mass. was mustered out at Lynnfield, Massachusetts, I have often times thought that perhaps it would be interesting for those who come after me to know what part of the great conflict we performed during our term of service.
I will commence by saying the battery was recruited in the city of Boston and New Bedford, Massachusetts numbering 156 men rank & file. 109 of those men came from New Bedford and the remainder from Boston and suburbs. We went into camp at Lynnfield, September 1861. On the 3rd day of October, [we were] mustered into the U.S. Service for three years or during the war. The men came from different walks of life, mechanics, clerks, farmers, sailors, etc. and they were as good and true to the flag they love as any company that took part in the great struggle.
During our term of service from 1861 to 1865, according to the records at the State House, we lost more men and horses killed in active service than any other of the 16 light batteries that left this state for the seat of war. The battery participated in 28 battles and skirmishes during the war.
After a short stay at the camp at Lynnfield we were ordered to change and go into camp at Readville, Massachusetts. While we were stationed there, the 24th Massachusetts regiment and the 1st Mass. Cavalry reg't were at the same camp with us. During our stay at Readville we were drilled and uniformed.
Our uniform was a good one. I think as good as any left the state for the war. Each man was measured for his suit and overcoat. We knew but little what the life of a soldier was while in camp at Readville. It was more like a vacation to me than anything else. We had plenty to eat and drink and a good old "Sibley" tent to sleep under but the time came when we did not have such luxuries. I remember well the day we broke camp at Lynnfield to go to Readville. On our way to the Providence depot we marched across Boston Common with our knapsacks strapped to our backs, some of them loaded down with many useless things.
We all felt proud of our new situation. It was the last time that many of the "Boys in Blue" marched across Boston Common. Our first Captain's name was Max Eppendorp, a Prussian by birth. He was a very strict disciplinarian, formerly a soldier in the Prussian army. His stay was short with us for he resigned shortly after our arrival at Washington D.C. On the 25th day of December we broke camp at Readville and started for the seat of war. It was then that the life of a soldier commenced with us.
<![if !vml]>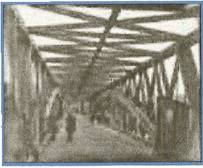 <![endif]>
Well I remember the morning.  It was Christmas morning and the weather was very cold. Before daylight the bugler blew "Reveille." The snow was more than two feet deep around our tents, and we had a hard time getting them out of the snow and ice. About nine A.M. we were all ready and anxious to start at short notice. We took up our line of march for the cars that were waiting for us at the depot at Readville. In due time we started for Washington D.C. We had a good time generally on our way.
At the depots we were met by crowds of people who wished us well and the ladies gave us many nick-nacks to remember them by. Many of the boys received needles and thread, buttons, pocket bibles, etc. with the names of the donors on many of them asking us to write them, etc.
We arrived all safe in Washington on the 28th of December. On entering the car at Readville, I turned over one of the seats to make room for four of us to sit down together. One of our number by the name of George L. Newton made the remark, "Which of us four will return home again to tell the story of the war?" Two of us returned, the other two were killed in battle, one of them my associate and tent mate who enlisted with me the same day and we both went to camp together. His name was Edwin M. Platts, killed at the battle of Fredericksburg, Virginia, December 13, 1862, age 17 years.
On our arrival in Washington we were ordered into line and marched to what was called "The Soldier Retreat" and given something to eat and quartered there in a large shed for the night. We were not allowed to go out, so we put our blankets down on the floor and stretched out for the night. It was there that the life we had engaged in made many of us think of "Home Sweet Home."
We were placed in charge of the Orderly Sergeant for the night while the commissioned officers went to some hotel. We were told to keep quiet and go to sleep but there was very little sleep to many in the shed that night for the boys were in for three years unless sooner discharged and wanted to make the most of it and I can assure you they did but after a good deal of persuasion on the part of the sergeant we quieted down and went to sleep but we had lots of fun. The following morning we were all alive and our appetites all sharpened up in good shape for breakfast.
In due time we were marched to the mess room and given a soldier's breakfast which consisted of bread and coffee. About nine o'clock A.M. we took up our line of march for Camp Douglas where we went into camp about a half a mile in the rear of the Capital, Washington, D.C. The camp was very muddy. In fact our camp was just as good as any in that locality. [Photo: Washington. D.C. Hospital tents in rear of Douglas Hospital]
There were many batteries of artillery in camp all around us, all waiting for assignments to the different corps of the army. We pitched our tents which were the same that we had while in camp in this state. There were 13 men to a tent and we made ourselves as comfortable as we could under the circumstances. In a short time we began to feel quite at home. Our captain of whom I have spoken resigned his position at this place. The battery was put in charge of our 1st Lieutenant George D. Allen, afterwards promoted to Captain. He went to work at once and for [sic] the battery in fighting order. We were furnished with a full compliment of horses and harnesses and other equipment; also six three inch bore rifled Rodman steel guns, battery wagons and forge. Now we had plenty of work on hand, for the horses were all green and it took time and patience to make them do just what we had to do with them. We remained in camp at Capital Hill for over two months, drilling and making ourselves familiar with the work that was waiting for us to do. Many things of amusement happened when we were stationed at Capital Hill. [Photo: Washington D.C., vicinity. 17th New York Battery with horses harnessed to guns]
I remember being on camp guard one night and while walking up and down on my beat (it was dark and had been raining all day) when I heard a distressing noise at a distance. I could not make out what it was. I called the Corporal of the guard Post 3 and he came with two of the guard.
I told him what I had heard. He listened and heard the noise himself. He advanced in the direction of the noise also the two guards. They found a man, a member of a New York battery, had fallen into a deep hole that had been dug for a post hole. It was full of water and the man was full of beer. He had fallen into the hole and could not get out. They pulled him out and had to carry him to the guard shed. They lay him down in a comer in front of a log fire. The next morning he looked like a baked brick. He was a sight to behold, for he was yellow mud baked, from the crown of his head to the soles of his feet.
One night I was on guard over the horses of the battery with a member of the company named Fred Manchester and a horse strayed into our camp. We caught him and tied him to the picket rope, where the other horses were standing, reported the fact to the Corporal of the guard and at that time there was a sergeant of the company who liked the appearance of the animal very much. He got permission to take the horse for his own use. We called the horse "Fanny." He rode with the horse all through the five years of the war and brought her home with him to this state (Massachusetts). I had the privilege of looking at him at home (Cambridge).
Many of the boys, while in camp, were punished for different offenses. Some were made to walk up and down so many hours a day with a log of wood on their shoulders. Others were punished by cutting a hole through the head of a pork barrel and putting it over their head and made to walk up and down for hours.
In the month of March 1862, we were ordered to go to Virginia so we left Capital Hill to take our position for active service. I remember how well we looked and how proud we felt as we marched down Pennsylvania Avenue to go into camp at Hall's Hill, Va. as a part of the Army of the Potomac.
[Photo: Washington on D.C. Artillery unit passing on Pennsylvania Avenue near the Treasury.]
We were assigned to the 1st Brigade, 1st Division, 5th Army Corps under the command of General Martindale. The Massachusetts soldiers in this brigade were the 18th and 22nd regiments and the 3rd and 5th light batteries. The 9th and, afterwards, the 32nd Mass. regiments were in the same corps as a part of the second brigade.
We liked our camp at Hall's Hill and enjoyed our time very much. We spent a good deal of our time in drilling and target practice, guard duty, etc. and while off duty would go to the woods and try to snare rabbits etc. I remember one afternoon we went out for target practice and a shell from one of our guns went over the hill and went through a man's house. We did not know anything about it until we returned to camp when a man who occupied the house came to the captain and wanted to know why we were shelling his house. As a matter of course, we felt bad for the man but we could not help what had been done.
From the time we left Massachusetts to go to Washington, our ranks began to weaken. Some of the men were taken sick and sent to the hospitals while we were at Capital Hill. Some of them never returned and, owing to vacancies in the company, the sergeant of my detachment, the first by the name of Fred A. Lull, was promoted to first or orderly sergeant. A short time ago I called to see my old comrade. He stated he had found something among the papers in his desk that he would like to have me see.
When he was promoted 1st Sergeant the men of the detachment met together and thought they would give him something to go with his promotion. It was decided that we would purchase him a pair of riding boots, spurs, and gloves and present them to him. A paper was drawn up and 24 names pledged themselves what they could to purchase the same. They were procured and given to him. He has to this day got that piece of paper with those 24 names written upon it with lead pencil and I find in looking over the names there are but four of us living to tell the story of bygone days.
Our stay at Hall's Hill was brief for the weather was getting somewhat settled and we were ordered to advance towards the enemy.
We started off towards Manassas leaving our Sibley tents that had sheltered us from the storm many nights, standing where we had placed them. I think we were more comfortable as to quarters at Hall's Hill than we ever were while in the army. We had our tents stockaded and bunks built two tier deep all around the tent and plenty of cedar boughs for a bed to sleep on. We found no enemy at Manassas so our course of operation was changed. [Photo: Manassas. Va. Confederate fortifications. with Federal soldiers] We went to another road and found ourselves at Alexandria, Virginia, waiting for transportation to Fortress Munroe, Va. It was here the hardships and privations of war commenced with us. It had been raining hard all day and we were wet, cold and hungry when we stopped for the night.
The water we had to drink was thickened with mud. The coffee after it was made looked as if we had milked a cow in it. Milk was something we had not seen for a long while. The following day we embarked on transports for Fortress Munroe. The men were put aboard a steamer, the horses and guns, etc. on barges and towed behind the steamer. Well I remember how hungry I was on that steamer to Fortress Munroe. [Photo: Fort Monroe. Va. The "Lincoln Gun." a 15-inch Rodman Columbiad]
Hardtack was worth a premium to us that day. During the night on our way down the Potomac River, the barge broke loose from the steamer with our provisions on board, so we had to go without until we arrived at Fortress Munroe. We got there all safe shortly after the battle of the Merrimac and Monitor had been fought. [Photo: James River Va. Sailors relaxing on deck of U.S.S. Monitor] The Potomac River at that time was infested with rebel marked batteries but we got past them without getting a shot from them. On our arrival at the fort, we were ordered to disembark, hitch our horses to the guns, and go marching away.
We went into camp at a place called Newmarket about four miles from Fortress Munroe. We passed through the old town of Hampton, Va. [Photo: Hampton. Va. View of the town] The rebels had burnt it down just before we got there. I remember carrying a piece of brick that I got at Hampton from what was called the oldest church in Virginia but finally had to throw knapsack and brick away with some other relics 1 had picked up at different places. I found that to carry myself was all I wanted.
We remained in camp at Newmarket for some little time, doing pick duty and reconnoitering the country for some miles around us. I remember while at this camp a few incidents that happened to me personally.
On the eve of our arrival at Newmarket, a comrade wanted some hay and straw to put in our tent to lie on. We found out that there were some at a short distance and started on the double-quick to get it. We had gone but a short distance when I heard a voice in the air calling me. I paid no attention to the call at first but after a while, I stopped and looked back. The sergeant said, "Did you not hear me calling after you?" I told him that I did. "Well," he said, "Come back the next time I call you." I told him I would. He said, "Hurry up, get on your side arms and fall in lively. You are detailed for guard tonight." I got no hay or straw to sleep on that night.
On another occasion one afternoon I was sitting down in my tent when two lieutenants came along and asked me to go along with them and turn the grindstone at the battery wagon. I asked them, "What for?" They told me they wanted to sharpen their sabers to cut some rebel's head off. I complied with their request. They never got near enough to the enemy to cut off heads for they both resigned their commissions shortly after.
While in camp at Newmarket I got a pass from our captain to go down to Fortress Munroe to visit an old friend and school mate belonging to the 16th Mass. reg't in camp there. After walking some miles I was just in time when I arrived at his tent, to sit down and have what I had not seen for a long time. That was a beefsteak dinner, soft bread, potatoes, etc. I sat down at a table and it seemed very strange to me for we did not have such luxuries up our way. After spending a few pleasant hours I got back to camp again about seven o'clock, feeling well paid for my trip to the 16th regiment.
On the morning of April 4, we broke camp at Newmarket and in due time started in the direction of Yorktown, Va. We had not gone many miles when the bugler of the battery blew "Halt." This is the first time we were commanded to halt in front of the enemy. We found that the rebels had thrown up breastworks with their guns leveled on us, to stop if they could, our advance. The place was called Howard's Mills. The right section of the battery to which I was attached was ordered from the road. We took position and opened fire on them and drove them from their breastworks. So the 5th Mass. Battery had the honor of firing the first gun on the advance of the Army of the Potomac up the "Peninsula Campaign" under command of General George C. McClellan. [Photo: Portrait of Maj. Gen George B. McClellan, officer of the Federal Army, and his wife, Ellen Mary Marcy.]  We had fired but a few shells from one of the guns, when the trail of the gun parted in two pieces. We got it together as well as we could and camped inside of the breastworks that night. After our arrival inside of the breastworks with the first piece of the battery broken, it was a question what to do with the gun, for it was useless the way it was but it did not take the boys long to make up their minds what to do. Fortunate for all concerned, we had mechanics in the battery who went to work and put the gun in condition for service. The first thing to do was to go into the woods, and cut down the best tree we could find, brought it to our camp and worked all night by candle light and before the dawn of the next day, we had a new trail in our gun and ready for any emergency. We made good use of the gun afterwards as time will show as I proceed. [Photo: Yorktown. Va.. vicinity. Headquarters of Gen. George B. McClellan. Camp Winfield Scott]
One of the many touching scenes I witnessed during our short stay at this camp was when a comrade and myself wanted to make a fire to cook our coffee for supper. We started for the woods to get some wood to make the fire. We had gone but a short distance when we discovered a woman and two small children clinging to her skirts.
Their cries attracted our attention. It was a strange sight for us to see a woman those days. We advanced to where she was standing beside a tree. We asked her what she was doing there. She informed us that when we had commenced to fire our guns, she left her small house which was close by our camp and went into the woods. She had taken off one of her white skirts and fastened it to a branch of a tree and held it out for a flag of truce. We informed her we would not molest her but conducted her safely to our captain's tent. She consented to go with us. Our captain heard her story. She informed him she lived in yonder small house and how she went into the woods, etc. Her husband was in the rebel army, etc. She was told to go to her home and a guard put around the house that night to protect her.
On the morning of the 5th of April, we started for Yorktown where the rebels were strongly fortified. We arrived in front of their breastwork about two P.M., went into position and commenced firing, but our work with other batteries in our division did not drive the enemy from their stronghold.
We fought until darkness came upon us and camped a short distance from where we were engaged. We remained in front of Yorktown during the whole siege which lasted from April 5 to May 4, 1862.
For the first week after our arrival in front of Yorktown, we began to realize the life of a soldier. The weather was wet and cold and we were short of provisions. The provision train was stuck in the mud and did not get to us until after some time after we got there. I remember we got some corn such as the horses are fed with and tried to boil it to get it soft but the process was very slow. Finally we used to take the corn and try to roast it but we found it a poor diet for dyspeptics and hard to digest. For three long days we lived that way: finally the provision train got to our camp and I tell you that the hardtack and salt pork had to suffer that night. The most of our time while we remained in front of Yorktown was taken up by doing picket duty and camp guard etc [Photo: Yorktown. Va. Confederate fortifications reinforced with bales of cotton]
I remember one afternoon that one of our generals went up in a balloon in front of our camp to look over the breastworks and see what the rebels were doing but he did not remain up but a short time. The rebels fired a shell from one of their batteries and it came very near going through the balloon. The general came down pretty lively and the shell burst in our camp but nobody was hurt. [Photo: Fair Oaks Va. Prof. Thaddeus S. Lowe observing the battle from his balloon "Intrepid"]
The first soldiers killed in battle I saw in front of Yorktown. They were two Charleston boys belonging to the 3rd Mass. Battery (General A. P. Martin). Both brothers, one got hit, the other went to pick him up when a shell burst and killed him also. They were buried Sunday morning, the day after the fight, sewed up in their blankets and buried side by side, under the shadow of a large tree in front of Yorktown. The men of the 3rd and 5th batteries attended the funerals. Before they were lain in their graves, their knapsacks were opened and they both had photographs of their wives and loved ones at home, which were placed on their bosoms in the grave.
That night after the fight we camped very near where we were engaged that memorable afternoon. I saw a horse that was hitched to one of our guns, shot in a peculiar way. A shell exploded and a piece of it stuck the horse and took his lower jaw completely off. We took off his harness after the fight to kill him but he did not want to be killed for he put his head down to the ground and thought he could eat the grass.
In a company of soldiers you will find more or less comical ones, some of them more knaves than fools, and I think our battery had our share of such. I think of one by the name of Charley Colbath, who played his part well for a discharge. He would oftentimes wander off outside our lines in front of the rebel pickets and as soon as they would fire at him, he would get down on his hands and knees, crawl back into our camp. One day he strayed into the camp of the 3rd Mass. Battery (Captain Martin). The captain's cook was about to prepare dinner for the officers. During the temporary absence of the cook, he went into the tent and there he found a plate full of good beefsteak. He thought what was good for the officers was good enough for the privates. He took the steak to his own quarters and was cooking it for his dinner when he was arrested and put in the guard house.
He was punished by being chained with a shackle to one of his ankles and fastened to the side of a fence. There he remained for quite a while, day and night, with straw to lie on. He played his part so well at different times that he was finally discharged as being insane. He came home and enlisted several times afterwards and got bounty every time. I have never seen him since he left our battery.
We had other members who were getting tired of a soldier's life. Some could lie down and have a fit just when they felt like it, others would play deaf, etc. Often times when we camped in front of Yorktown, we went down to the river and gathered oysters, bring them to camp and cook the best we could. If we wanted escalloped oysters we would take some hardtack and break them between two stones for meal. At times we would get up a dish good enough for any soldier. We were at times homesick and wanted no oysters or anything else but "Home Sweet Home".
On the night of May 1, we were told to hold ourselves in readiness at short notice for an advance on the enemy. On the night of May 2, while in our tents asleep (well, I remember it, for it was blowing hard and raining). It was twelve o'clock and the bugler blew "Assembly." We got out of our tents as best we could to fall into line. We were ordered to strike tents and harness up the horses for a move towards Williamsburg where part of the army had engaged that day. From the time we received call we worked with a will, for in ten minutes after we were all ready to move forward.
In due time we started, went a mile or more on the road, when the bugler blew "Halt." We did not advance any further that night. We were sent back to the same quarters we had vacated some short time before. We found ourselves in the same camp in the morning, just as if nothing had happened during the night but our clothing and blankets were wet, for it rained hard during our absence.
On the morning of May 5, our corps was ordered to advance. We again broke camp and started in pursuit of the enemy who had evacuated Yorktown the night before. We traveled over many rough unbroken roads that day. Finally we went into camp for the night at West Point, Va. near Whitehall Landing. On the following morning before daybreak the bugler blew "Assembly", which to us was fall in line for roll call. The roll had been called so many times that those whose duty it was to call the roll, seldom used a book or paper. If a man was absent, he had to be accounted for by the sergeant of his detachment, to which he belonged. The moment the bugler stopped blowing his bugle, they were supposed to be in line standing at attention. After breakfast roll-call we had our breakfast of hardtack and coffee. Then rations were served out to each man to last him three days. That meant business to the soldier when rations were served out in advance.
Shortly after, the bugler blew "Boots and Saddles" and then we were ready for the march again. We started off on the road to Williamsburg, Va. where the battle had raging a short time before. We passed over roads that the rebels had planted torpedoes, near wells, near springs of water, near flag staffs, in carpet bags, empty flour barrels, etc. There were more or less men killed by the explosions while on the march. They were planted in the ground and as soon as a man would step on one of them, it would go off. Finally the rebel prisoners were made to take them up at their own peril. Our course was press towards Richmond and on we went to meet the foe. We did not have long to wait for on the 27th of May, we came in contact with the enemy at Hanover Court House. [Photo: The Peninsula, VA. A 12-pdr howitzer fun captured by Butterfield's Brigade near Hanover Court House, May 27, 1862.] We did what we could to start them along but we found out that they were prepared to stay where they were for the time being. We fell back a short distance and went into camp feeling thankful that we had been spared to spread our blanket down on the ground and go to sleep. I can assure you it did not take us long to get into the land of the nod, for we were pretty well tired out after our days work.
On the 27th of June, we found ourselves in front of the enemy at Gaines Mills, Va. which place we left to go to Hanover Court House. The 27th day of June was a hard one for the 5th Army Corps. We fought the enemy all day but did not accomplish anything, we lost heavily. I think it was a terrific day for the 5th Mass. Battery. We lost many of our boys, killed and wounded and some were taken prisoner. They charged our battery several times that day and we kept pouring in the grape and canister and shell into them as fast as we could fire. [Photo: Cold Harbor Va. Vicinity. Unburied dead on the battlefield of Gaines' mill.]
Our work was effective but for all we could not get the best of them. At last they gave one of their yells for which they were noted and drove us from four of our guns. The other two guns were got off the field for the horses had not been killed. It was at this battle that we lost the gun that we worked all night to put the new tail in, on our way up to Yorktown. There was great scattering among our boys that night. Some went one road, some went another and what was left of us got together after a while. One of our number I have often thought about since our return home. His name was Gifford.
At the fight at Gaines Mills he worked on one of the guns and when the rebels charged on us the last time, he took the situation in all at once. He started to go with the rest of the boys. He had not gone but a short distance when he thought of his blouse that he had taken off in the heat of the day and left on the trail of the gun. He went back to get the blouse, when he thought he would give the rebs one more shot. He loaded the gun all alone and left the ram in the gun then fired it for all it was worth. He then took to his heels for all they were worth and the last we saw of him he was on the double-quick across the Chickahominey Bridge. I have been told he was last seen running up Purchase Street in New Bedford, Massachusetts. I know he never came back to us so I have no doubt but what he kept on the double-quick until he reached his home. Our forge and battery wagons and many of our side arms were thrown into the Chickahominey River that night to keep them from the rebels who were after us in good shape.
Our captain, George S. Allen, was taken sick and left us after the fight at Gaines Mills, came home and resigned his commission. They were many of us that would have liked to have come home but we were not all officers. We went marching and fighting our way along through the seven days battles. At last we found ourselves at Harrison's Landing, Va. near the James River. The weather was very warm, the flies looked to be a large as bees and water for drinking was very scarce.
Our battery boys came together at this place "But we got there just the same." After our arrival at Harrison's Landing the battery was somewhat broken up. We had but two guns and a few horses. There were other batteries who had lost heavy in the late engagements.
Our two guns were turned over to the 4th Rhode Island Battery who were a part of our brigade. The officers were attached to the 3rd Mass. Battery. The men were divided. One half detailed to the 3rd battery, the other half to the 4th R.I. There was no regiment or battery of the Army of the Potomac at that time that had men enough for we lost thousands, killed and wounded on our retreat to Harrison's Landing. On the morning of July 1, the two guns of our battery that we had left, was ordered to take a position at Malvern Hill, out 1st lieutenant was in command.
The men of the battery that had lost their guns at Gaines Mills were ordered into line. We were asked to man the guns of the other batteries. The order was that any man that will volunteer to go, will step two paces to the front. The whole four detachments who had lost their guns, to a man stepped two paces to the front and off we went to join our comrades who were already engaged at Malvern Hill. History will tell you that this fight was a regular artillery duel.  During the engagement at Malvern Hill, General Griffin, who commanded our brigade came riding along to where the two guns of the 5th Battery were engaged and wanted to know where was the officer in charge of those two guns. [Photo: Portrait of Capt. Charles Griffin, officer of the Federal Army. (Brig Gen from June 9, 1862)]. Our 2nd Lieutenant, Charles A. Phillips, as brave a man who ever stood on the field of battle, told the general, "There he is, the coward standing behind that tree."'-The general then told Lieut. Phillips to take charge, which he did. The 1st Lieut. who was in command left the boys then and there; one other, a second lieutenant, went with him. The last I heard of either of them, they had resigned and came home, never to be seen by any of the boys of the 5th Mass. Battery. I felt ashamed of them, after turning the grindstone a short time before, to sharpen their sabers to cut off some rebel's head, which they never did.
We did what we could at Malvern Hill and I have oft times thought, if it had not been for our gun boats at Malvern Hill, the rebels would have driven us into the James River. We returned back to camp at Harrison's Landing and remained there during the month of July, 1862. We tried to make ourselves as comfortable as we could under the circumstances. Our corps, the 5th, lost during the seven days battles, commanded by Fitz John Porter, 873 killed, 2,779 missing. [Photo: Portrait of Maj. Gen. Fitz-John Porter. officer of the Federal Army.]
We were at that time very much used up and needed all the rest we could get. Twenty miles from Richmond, Va. but it looked to us at that time as if we would get there as prisoners and no other way. The rebels fought those days with a will and if they had got the best of us at Malvern Hill, it would have gone hard for all concerned. In the beginning of the month of August our corps was ordered to move.
We were glad to make a change at that time. In due time, off we started, after traveling many miles
we brought up at a place Warrington Junction. After some delay we were ordered to Bristow Station. [Photo: Virginia. Tracks of the Orange & Alexandria Railroad, destroyed by the Confederates between Bristow Station and the Rannahannock]. We arrived there while the battle under General Pope was in progress, feeling hungry and tired and as the boys used to say, "We want no more pie but want to go home." We remained there doing nothing but putting in our time the best we could. We again started for Manassas Junction and finally brought up at Centreville, Va. [Photo: Manassas Junction. Va. Soldiers beside damaged rolling stock of the Orange & Alexandria Railroad]
We went into action and did what we could to stop the enemy's advance. The battle raged furiously for hours and many a brave soldier lay down his life to uphold the Stars & Stripes. The next day we were posted in the entrenchments on the right of Centreville. [Photo: Centreville. Va. The principal fort] Thus ended the second battle of Bull Run.
The next start we made was for Antietam. The men of the 5th Mass. Battery as I have stated before were attached to the 3rd Mass. Battery and 4th Rhode Island. We had started for Antietam and while crossing Georgetown Bridge D.C., an order came for the 5th Mass. Battery to fallout of line. The boys of the 5th Mass. Battery once more fell into line and we were marched back and went into camp as the 5th Mass. Battery at Georgetown Heights.
After a few days we were again put to work. We had been furnished with a new outfit complete; horses, guns, harnesses and all other equipments and a few new recruits which we were very much in need of. As soon as we could get straightened out, off we started to join our corps who had preceded us and were at Antietam. While we were getting ready for a start at Georgetown Heights, Lieutenant Charles A. Phillips was commissioned our captain. He was the only commissioned officer out of what we had when we left Massachusetts. He was one of the best officers, a strict disciplinarian, he knew no fear, was later on brevetted major for gallantry on the field of battle. He remained with the battery during the whole term of service and came home with what was left of the boys after a service of over four years. Our other officers were commissioned from our ranks.
The roads to Antietam were very good, better than we had traveled over for some time. We passed over South Mountain after the battle. We saw many things of interest on our journey over the mountain. We went round & round in order to get our guns up over the top. When we arrived there we found that Gen. McClellan had planted large siege guns there. It was a wonder to us how they ever got such guns up there. I know we had all we could do, to get up there. In passing over the mountain, the trees were full of lead bullets and hundreds of dead soldiers lay where they fell. [Photo: Antietam. Md. Battlefield on the day of the battle] The rebels at that time were in front of us but at last they started back to old Virginia. We followed them up for a short time and then went into camp at Sharpsburg, Va. Our camp was very near the bridge that Gen. Burnside had taken with his corps, from the enemy. Many times we went to water our horses under the bridge and we often times thought of the thousands of our brave boys who gave us all that was dear to them, to defend. Our stay at Sharpsburg was short. Again we started in pursuit of the enemy, going by way of Harper's Ferry, Va. [Photo: Harper's Ferry. W. Va. View of the town and railroad bridge]
We saw many things of interest to us there - where John Brown was executed, etc. While in camp at Sharpsburg, I went to a farm house on the road and the lady of the house baked me a loaf of bread, while I waited for it. I paid her one dollar for it and was glad to get it. We marched along road after road and mile after mile, sometimes on the advance of the army and then at other times in the rear. [Photo: Sharpsburg. Md. Principal street]
While on this we were detailed as a battery to guard the supply train which generally followed after the army in the advance. Some nights it was very late when we arrived at the camp contending with all kinds of weather. I remember one night on this march we were going down a hill on a corduroy road and had to turn a sharp corner. As we did, one of our caissons loaded with ammunition, turned too sharp and tipped over into a swamp. We had to work for hours to get it out on the road again.
We were all very tired, short of provisions, etc.; it was three o'clock in the morning when we reached a stopping place. After many days of hard marching we arrived at Falmouth, Va. where we went into winter quarters. Our camp was along side of the railroad near Acquia Creek Bridge.
We made ourselves comfortable as we could while there. We built a stable of pine boughs etc. to shelter the horses from the storms. We had an old fashioned baking pan and we made good use of it, baking beans and brown bread.
We had plenty of pork and hardtack to go with the beans. We amused ourselves when the weather would permit, by having a game of base ball. When night came on, we would sit around our camp fire, sing songs, tell stories, etc. Some of the boys could tell a pretty good story. It was now the fall of the year and the weather was getting quite cool. One night the rebel cavalry made a raid on the Acquia Bridge to destroy it, but got left. After that our battery of six guns was posted on a hill near the bridge, to stop them if they carne again. We did picket duty for some time; at times we were on picket duty every other night. [Photo: Aguia Creek Landing. Va. Personnel in front of Quartermaster's Office.]
We were short of men and it made it hard for the rest of us. We had at this time been in the service over a year and thought ourselves old soldiers. We passed through many a bloody day and I have often thought since that we were having the cream of it that time and later on we got nothing but sour milk.
We had men in the company that had counted up many things. Some could tell how many hours they had to put in to make up three years; others had counted up the minutes; could tell how many more times they would have to go on guard at the rate we were going. While in camp at Falmouth we were put under light marching orders. [Photo: Falmouth. Va. Aides de camp to Gen. Joseph Hooker: Capts. William L. Candler, Harry Russell, and Alexander Moore] That meant to us, taking away a good many little comforts that we then had. All extra clothing was taken away from us and what we had left, was what clothing we had on. If we wanted a clean shirt or socks, we had to go to the brook and wash them, then wait until they got dry, then put them on. I am thinking that some of our shirts never got washed, for I noticed our boys after a while had gone into the scratching business just like thousands of other men in front of the enemy. Our tents were taken away and each man was furnished with a piece of shelter tent. At this time General McClellan had been removed as commander of the Army of the Potomac also Fitz John Porter, who commanded our corps. General Joe Hosker [Hooker] was put in command of the 5th Corps and General Burnside in command of the Army of the Potomac. [Photo: Portrait of Maj. Gen. Joseph Hooker. officer of the Federal Army] On the 10th of December, there was music in the air, for we were ordered to get ready and advance on the enemy, who were strongly fortified on the heights of Fredericksburg, Va.
On the eve of December 12, we were told to be in readiness for a move in the morning for Fredericksburg. Three days rations were served out to us or in other words, we put all we could in our haversacks for we had plenty of rations at that time. On the morning of December 13, we bid adieu to our camp at Stoneman Switch near Falmouth not knowing that we would never return. We left our tents standing where we had pitched them. In the meantime each man had been furnished with a piece of shelter tent also the corps badges to put on our caps. The badge of the 5th Army Corps was a Maltese cross.
The bugler blew "Attention" and then off we started to the Battle of Fredericksburg or what the boys called afterwards the "Burnside Slaughter House." [Photo: Portrait of Maj. Gen. Ambrose E. Burnside, officer of the Federal Army]  We arrived at Falmouth in front of the city of Fredericksburg. We had come to a halt when our captain received orders to cross the pontoon bridge about in the center of the city.
I have no doubt but many of ins would have liked to have been excused but it was too late.
Off we started. The shot and shell from the rebel batteries was falling thick and fast all around us. Strange to say, not one of us got hurt crossing over the bridge that so many of our brave boys lost their lives, to build.
I was a driver on one of the caissons going into this battle. [Photo: Sergeants of 3d Massachusetts Heavy Artillery, with gun and caisson]  I remember when we reached one-half of the bridge, a shell came flying over my head and my horses made a jump and almost threw me into the river. After we got over the bridge we halted in the center of one of the principle streets.
The guns of the battle were ordered to take a position on the left of where we stood; the caissons were left standing in the street. The swing drivers of the caissons were taken off their horses to help man the guns. There were six of us. A way we went to do what we could. We were placed in a position on the right of what was called the poorhouse.
We commenced with shot and shell and kept it up until darkness came upon us. Every time we fired a gun it would recoil back six or seven feet. The ground being soft it made it hard work when the command was "by hand to the front." We kept firing away for all that we were worth but it did not seem to make any impression on the enemy breastworks in front of us.
Regiment after regiment and brigade after brigade of our soldiers were mowed down like the grass before the scythe. Hundreds of our battery boys were shot down by sharpshooters. The Second Maine regiment supported our battery that afternoon.
One poor fellow was shot dead in the rear of one of our guns. He lay where he fell. He had a piece of shelter tent and his blanket rolled together over his shoulder. I took his blanket for it was much better than the one I had and slept on the brick side walk with it that night. 1 brought the blanket home with me from the war and my wife used it for years as an ironing board blanket. The streets of Fredericksburg were a hard looking place that day. The dead and wounded lying in all directions; furniture of all kinds in the streets; pianos, etc. and you could see the men breaking them up for wood to make a fire to cook their coffee, etc. [Photo: Fredericksburg Va. Houses damaged by the shelling of December 13, 1862.
The stores and houses, churches etc. were riddled with shot and shell from our batteries on the opposite side of the river. That night of the memorial day we rested on the streets of the city.
I remember it was a pretty cool night; we put the cape of our overcoats over our heads and canteen for pillow and rested the best we could.
We were tired enough to sleep anywhere and many a brave boy slept his last sleep on that bloody field that night. On the morning of December 14 it was Sunday and we were ordered back to the same position that we occupied the day before. We did no fighting. We remained there all day trying to make ourselves as comfortable as we could. We would get a stray shot once in a while but nobody in our company was hurt that day. In the house called "The Poor House" alongside of where we stood, we found a barrel half-full of flour also a cook stove and then we had a picnic all to ourselves for we fried flapjacks all day on top of the stove covers. We had no salt but they tasted good to us. The house was built of stone, riddled with cannon balls. I looked over the field of battle that morning; it was a sad sight. Our dead soldiers were piled up two or three tier deep for breastworks during the night, thinking we would have to commence business again in the morning. The loss in this battle was 1,128 killed, 9,105 wounded, 2,078 missing.  Our division lost 3,548 killed and wounded. [Photo: Fredericksburg, Va. Burial of soldiers] The day we stood waiting for orders to cross the pontoon bridge, my tent mate and associate, who enlisted in the army with me, had been promoted to the rank of Corporal and assigned to the left of the battery. I was attached to the right. He came to me and said, "Now we are going into a hot place, look out for yourself." I told him to do the same.
We talked together for a short time when the bugler blew" Attention." He left me to take his place. That was the last time I ever talked with him. After we had come off the battlefield, one of the boys came to me and wanted to know if I knew that my tent mate was hit. I told him "No." I wanted to know where he was. He told me that the last he saw of him he was lying up side of the fence where we had been engaged. It was quite dark; I went back to see if I could find him. I saw many men lying alongside of the fence but I could not find him. I was obliged to give up looking for him that night so came back feeling sad I could not find him. The next morning I started off again to find him. I had not gone far when I saw four boys with his lifeless body on a house shutter, bringing it across the street. I went over to where they were and found it to be my comrade for which I had been looking. The men of the battery dug a grave in a garden of a small house on the main street and he was buried there. We took four shutters from the house and made a coffin and then the body was lowered in the grave.
He was one that was beloved by all the men and I missed him when we got back to camp again. For many nights we buttoned our shelter tents together and slept on the same blanket. But I knew he died as he would wish for he was a true blue and passed away like a hero. The last words that he spoke were, "No man can call me a coward." Then it was four o'clock Sunday morning and there would be no more fighting that day. These were the last words of my comrade and friend, Corporal Edwin M. Platts, age 17 years.
Before he was put in his grave, I looked at him. I found that a round bullet had struck him on the left breast over the heart and was taken out his back. He bled inwardly and had his senses to the last. I brought his cap and the bullet that killed him home. The men of the battery got a piece of board and put it up for a marker on his grave with there words on it. "Corporal E.M. Platts 5th Mass. Battery Killed December 13, 1862." The battery passed over the same ground sometime after and found that another soldier had been buried alongside Eddie.
In the meantime the rebels had occupied Fredericksburg and they took great pains to write on the grave mark "Here lies the body of a D. Yankee soldier." On the night of December 14, we were ordered to cross the river; it was Sunday night and raining hard. We crossed the pontoon bridge all safe after a few hours march we found ourselves back in the same camp we had left but two days before. It was a bitter pill for us to swallow that night for we accomplished nothing and left many of our brave boys behind us to be buried in the soil of Fredericksburg. [Photo: Antietam. Md. Burnside's bridge]
While standing in the street waiting for orders, on Sunday evening, I was talking with one of our boys standing behind a large tree to keep away from the bullets of the rebel picket. We had been there but a short time when a soldier came running up to us and wanted to know which way he could go to get to the bridge. We told him. I had no sooner got the words out of my mouth, when a minnie ball from one of the pickets passed through his cap. The cap fell to the ground when off he started on the run for the bridge, for he was almost scared to death.
When we started for Fredericksburg, tobacco was rather a scarce article in our camp but during our short stay at Fredericksburg, our boys went through a tobacco warehouse and brought back to our camp enough to supply all demands for a long time. In place of ammunition in our caissons, we had tobacco. On our return from Fredericksburg, we pitched our shelter tents in place of the wall tents that we had before we left to go to Fredericksburg. [Photo: Fredericksburg. Va. Cooking tent of the U.S. Sanitary Commission]
We made ourselves as comfortable as we could, for the weather was quite cold. After a lapse of two of more months we were told to get in readiness for another move. At last, orders came and off we started but where we were going we did not know. We had gone many miles when a terrific rain storm set in upon us. We kept moving right along as fast as we could. We were as wet as we could be, outside. At last we were obliged to halt for the horses could not pull the guns along the road. At times we had to double up the teams to pull through the mud. At last we were ordered into camp on the side of a hill. The night was terrible; it rained in torrents and the wind blew furiously. As soon as we got into camp and the horses were taken care of, my tent mate Mort Gale and myself, started for the woods to get a pole and two crutch sticks to erect our shelter tent for the night. We got our tent up and spread our rubber poncho down to lie on; the ground was very rough with small cobblestones. We found it a hard bed to sleep on but we could sleep almost anywhere those days. We had not slept many hours when Mort says to me "Archie, we are floating." We sat up and found the water was running a stream under us. We had forgotten to dig a trench around our tent so we did the next best thing for the night. We were glad when morning carne after such a refreshing night's sleep but we found out that the storm was not over. We put in the day the best we could, sitting in our "Mansion" for we could not stand up. When night came on the storm was still raging: we lay down to sleep. All at once the wind commenced to blow more furious; it was a few hours when our tent went up like a balloon and we lay there looking at the sky. There were but a few tents left standing on our camp ground that night. We went to work with other boys of our company and made shelter for the night.
We took one of the tarpaulins that covered the guns and spread it down on the ground. We then lay down and pulled one-half over us and slept soundly until morning. The next day it stopped raining; we were ordered to start along. We got out on the road and found out that we were going back to our old camp at Stoneman Switch and a more discouraged dirty set of men as we were, I had not seen before, for the men, horses, guns and equipments were yellow mud allover. This move was called "The Famous Mud March." We had spent so much of our time at this camp ground that we were familiar with all the surroundings and the wood for cooking purposes was getting scarce. It was now the month of April, 1863 and the weather was getting more settled and much of our time was spent in battery drill, etc.
We had a good drill ground near the camp. Many of the boys of the battery were punished while we were in this camp, for different rules they had disobeyed. Some were made to stand on a caisson box for two or more hours for leaving the feed bags on the horses after they had got through eating. Others were put on the spare wheel of the caisson and made what the boys used to call, the "Spread Eagle." We had one man that was caught sleeping on his post, while doing camp guard. He was punished very severely. A cracker box was strapped to his back, loaded with cobblestones. He was made to walk up and down in front of the officer's quarters, six hours a day for a number of days with a guard put over him. I often meet this old comrade on the streets of Boston and I think of the cracker box at Stoneman Switch.
We had a few recruits sent to us while at this camp and two of them left us shortly after. Others started from Boston to join us but they "jumped the rope" in New York after they had got their bounty. The month of May 1863, we again started to meet the enemy. On the morning of May 3rd we were marching over the plain road to take a position at the battle of Chancellorsville, Va. It was Sunday morning and the battle was raging furiously when we arrived.
We took our position on the left of the army. We remained there all day working hard under many difficulties. We had quite a fortification in front of us when we left that night. We filled grain bags with dirt, etc. to put in front of us to keep the sharpshooters from picking off our men. I remember as we passed up the road to take our position, there were many regiments waiting on the roadside to take their positions. One of the colonels of one of the regiments spoke to our captain. He said "Captain, where are you going?"
Our captain told them we were going in to give them hell. I remember how the boys of those regiments cheered us as we passed by. There was a regiment waiting on the roadside that had just come from Pennsylvania, one thousand strong.
They had a drum corps composed of boys 15-17 years of age. The boys were singing "John Brown' and the whole regiment behind them joined in the chorus.
Later on the regiment was ordered to take off their knapsacks and place them in the woods. They got into line and went into the fight on the double-quick. I was told afterwards that they fought well and six hundred were left on the field, killed and wounded. As usual after a battle, it commenced to rain. The day had been quite warm and thousands more of our brave boys were sleeping their last sleep on that bloody field.
I saw many things that day that I shall never forget. There were men going to the rear of the army with arms hanging by their sides; others shot through the body, etc. One poor fellow, quite a boy, came to where we stood and wanted a drink of water. He had nine buckshot in his head, blood was running out of his wounds like a stream of water. We bathed his head and did what we could for him. He belonged to a rebel regiment.
That Sunday the caissons of our battery were ordered across the river for safety under command of corporal T. E. Chase. We arrived at the river about dark but did not go across. The corporal thought it looked too much like running away from the enemy. We remained at the bank of the river all night. The next morning the remainder of our battery came along and we fell into line and joined them on the march back. Our captain wanted to know when he met corporal Chase, "Why he did not take the caissons across the river!" The corporal told him he thought he was doing right. The captain told him to do as he was told, next time. If the rebels had drove us to the river that night, no doubt they would have captured our ammunition and we would have had to swim across. By this time in our army life, we had got well used to retreating in good order, for we had crossed and recrossed the river so many times that we were getting well used to it. After some delay we at last crossed the river. I think it was a place called Kelly's Ford. When we got to the other side we found it a hard road to travel; the hills were very steep. I know we had to get mules to pull the guns up some of the hills, for the horses and men were all used up.
We found out at this place that six mules would pull more up a hill, than twelve horses. After getting on top of a hill we would halt for a rest etc. One of our guns was capsized over an embankment while on this march, and we worked for hours with ropes, etc. to get it up again. We then took up our march back to the old camp ground at Stoneman Switch. The later part of May, we again broke up camp at Stoneman Switch. It seemed to us like from home after putting in so much of our time at this place but we went away this time for good, we never returned to that old camp ground again.
We started off early in the morning, marched all day and then went into camp about ten miles from where we started. We did not know where we were going until we had reached our destination. We found out that the folks at home knew more about our movements than we knew ourselves. Strange to say a soldier never knew where he was going until he had reached his destination.
We remained at this camp for a few weeks; it was a good one, on the edge of the woods. We enjoyed our time while there. We were paid off six months pay and the sutler [sic] came along with a two-horse load of supplies such as we were very much in need. As long as our money lasted, we bought many things such as we could not get from the quartermaster; butter $1.00 lb., condensed milk 75¢ a can, smoked fish, pipes and tobacco, cookies and plantation bitters and I tell you the boys bought all the bitters we had in a very few days, for when we left that camp, the trees were well decorated with empty bottles. We made up our minds that we had enough to supply all our wants, while there.
I remember an incident that happened on one of our marches, after we left Falmouth, that I shall never forget, and too good to say nothing about. One afternoon while at camp, comrades Weltch, Platts and Waugh, were told to put the saddles on our horses and start on the road to see if we could find any hay, that would do for the horses. We rode along about three miles on a good road and discovered some hay in a large field, also a few sheep grazing on the grass. Well, I don't know but what we thought more about the sheep than we did the hay. At that time we were under strict orders in the Army of the Potomac, about foraging, but for all we thought, we would capture a sheep if we could.
We halted on the roadside. My lamented comrades dismounted and the writer of this held the horses. A way they started to get one or more sheep. After a long chase over the field, Platts caught one as he was about to jump over a rail fence. I rode up with the horses to them and put the sheep across the saddle of Platt's horse. We then rode up to the stack of hay and covered the sheep allover with it. Weltch and myself took what hay we could comfortably carry in front of us and started back to camp.
The sheep never opened his mouth. In order to reach our camp, we had to pass the guard at what was called the "Main Entrance" of our brigade. Just as we were about to pass the guard, the sheep began to "Baa baa baa." We knew that was a giveaway for us. We put the spurs to our horses and went to our camp as fast as the horses would go. When we reached camp, we threw the sheep in one of the tents, to one of our boys who sat there. We then put the hay in a pile in the rear of the horses. In the meantime, a detail of the main guard had been sent out after us, to bring us back, but before they got to us, the sheep was killed so as not to give us away. The guard had arrived at our camp but we had hidden ourselves from their view. The officer in charge of the guard went to one of our officers and told them what was wanted. They, of course, knew nothing about any sheep. They got no satisfaction and went back without us.
After they had gone the captain sent the orderly sergeant after us. We went to his tent and told him we had found hay at a distance. "Well," he says, "What about the sheep?"
We looked at one another. Finally Weltch says "Captain, that is all right, you shall have lamb chops for your supper." The captain laughed and told us to go to our quarters. In the meantime, one of the boys of our company, a butcher by trade, got the sheep all ready for the market. We gave the officers for their mess, one quarter of the sheep. That would make us all O.K. That night we had chops for supper, the remainder was in the camp kettles boiling. The next day we started off on our march with mutton chops in our haversacks instead of salt pork. It was a Thanksgiving to us at that time to have our bill of fare changed.
Time rolled along and we were on the move again. The battery was all hitched up for drill one afternoon, when we received our orders to go as fast as we could. We found out that the rebels had crossed into Maryland and we were to go after them.
Before we started that afternoon, I was detailed to take the lead horses of the first piece of the battery I was then in my glory for I liked the position in the rear of our captain and along side of our guidon. For two days and two nights we kept on the move before we came to a stopping place.
At last we reached the Maryland shore and was halted to wait our turn to cross the river on a pontoon bridge. The horses stood all that night hitched to the guns. The men of the battery thought they would improve the opportunity so we lay down on the grass along side of the guns and went to sleep. It rained all night; when we awoke in the morning we all shivered with the cold, for we were as wet as we could be. The horses stood still for they were too tired to move. We built a large fire with a rail fence and then made our coffee. After drinking our hot coffee, we thought little about wet or cold. Troops had been crossing the bridge all night and it was nine o'clock a.m. when we were ordered to cross. After we reached the other shore we marched about three miles and went into camp where we remained two days. We were glad to get to a stopping place for after our forced march the men and horses were all used up.
During this time the Army of the Potomac had been placed under the command of George G. Meade and the 5th Mass. [Photo: Portrait of Maj. Gen. George G. Meade, officer of the Federal Army.]  Battery was with other batteries from different corps formed into what was called a division of reserve artillery. We were assigned to the 2nd division under the command of Major McGilvray. The ninth Mass. Battery was also in the same division with us. The boys of the battery did not like it very well to be put in the reserve and leave the old 5th corps, after what we had passed through with them. But to look at it in another light, we thought we would have a much easier time of it. But time will show what an easy time we had.
It was now the later part of June 1863, and we were on the move again. We kept marching along by day and resting at night. At last, we found ourselves in camp at Tarrytown Road about ten miles from Gettysburg, Pennsylvania. After a short stay at Tarrytown we were ordered to Gettysburg. The morning we started we knew there was "music in the air" for we could hear the cannon roaring at a distance. We arrived near the battleground of Gettysburg on the morning of July 2,1863. [Photo: Gettsburg, Pa. Solidiers killed on July 2, in the wheatfield near the Emmittsburg road]  On our way up we could see our soldiers engaged with the enemy. We had come to a halt when an orderly rode up to our captain with orders to advance with action. We went into the fight on the double-quick and took our position near the peach orchard on the left of Cemetery Hill. [Photo: Gettysburg. Pa. Headquarters of Gen. George G. Meade on Cemetary Ridge.]
We commenced firing at once with shrapnel shell. It was a terrible ordeal to pass through. The air was full of bursting shell and the minnie balls were falling thick and fast around us and many of our battery boys were mustered out that day. There were times during the engagement that day that the rebel batteries would charge on us and we were giving them grape and canister as fast as the boys could load and fire. We would then hitch prolong and fire retiring and then advance. We lost many horses. All day we kept it up. At last darkness came upon us and we left the field for the night. That night, coming off the field I shall never forget. One of the horses attached to a gun, which I belonged, fell down as we were coming away from the field. The remainder of the battery passed by and left us there to get the horse up and then come along after them. The horse was tired and it was some time before we could get him up on his feet. After a while, we got him up. The rebs at this time, had advanced towards us and firing after us in good shape.
Where the battery had gone, we did not know but thought we could find them on the road somewhere. We started as fast as the horses would go to find the rest of the battery. We crossed over field after field. The dead the dying and wounded soldiers were lying in all directions. Some of the wounded would cry out "Don't run over me." We had to get over a stone wall to get to the road and the dead and dying were piled up along side of it. We at last reached the road, but where the rest of the battery was, we could not find out. We went along, mile after mile. At last we discovered a dim camp fire in a distance. As we got nearer to it, we could tell it was a battery of artillery. We turned to our right into the field and found it to be our own battery.
[Incidentally, I find stamp March 12, 1908 at the top of page I am copying so this I am now writing was written that certain day. - Fred.]
The boys had just made their coffee and were sitting in groups around their camp fires. There was great rejoicing when they saw us arrive all safe. They had made up their minds that we had been captured. They gave us some coffee and we sat there talking about the events of the day.
We had not been in camp many hours when there was a detail made for guard duty and my name was called with some others. That evening two rebel prisoners had strayed into our camp and I was detailed to guard them for the night. I escorted the prisoners to the rear of our camp and sat down on the side of a hill. They asked me if I would allow them to go into the woods and get some wood to make a fire. I consented. We went into the woods and returned with wood enough to last all night. They had water in their canteens and I had coffee in my haversack. I gave them some. They made the coffee and we sat there drinking coffee and talking about the war, etc. They were two fine looking men, better than the average soldier in the rebel army. They talked intelligently and thought they were fighting for a just cause. I spent a very pleasant night with them. [Photo: Gettysburg, Pa. Three Confederate prisoners.]
They both belonged to a Georgia regiment. About ten o'clock the one on my left lay back on the grass and went to sleep. I sat in the center. Pretty soon the one on my right lay back and it did not seem but a few minutes to me when he also was in the land of nod. There I sat, looking at one, then at the other. Well, I got tired of looking at my prisoners. I thought I would lie back on the grass but not go to sleep, although tired out after our hard days work. The first thing I knew it was morning and when I came to look around, my two prisoners were awake, sitting up along side of me. I felt glad when I delivered up my men and I got out of it as well as I did. At daybreak the next morning July 3, the bugler blew "Reveille." We all knew that there was a hard days work before us and wish we could pass by, but no, we were in for three years, unless sooner discharged.
We started a fire and cooked our morning meal. Bugler blew "Boots & Saddles" and off we went on the double-quick for the third days fight at Gettysburg. We were placed in a position to the left of where we were the day before on the right of Round Top and left of the peach orchard. [Photo: Gettysburg, Pa. Breastworks on Little Round Top in distance.]  We commenced firing as soon as we got into position, as the rebs were trying to turn the flank of our army. We kept firing into the rebels ranks and mowed them down like grass. General Hancock came riding along and told our captain to cease firing and save our ammunition as we would need it more later and it proved afterwards, that we did. [Photo. Portrait of Ma.. Gen. Winfield Scott Hancock officer of the Federal Army]
Some hours afterwards the rebels concentrated their forces for a grand charge. Then I tell you we had all we could do to keep them back. We opened on them right and left; it was terrific for awhile. We had but a few horses of the battery left and the battery boys were getting scarce. We lost in men and horses in a short space of time that day, than we had lost in many battles before it.
When we were told to cease firing, we were told to shelter ourselves the best we could. There was a large rock almost as big as a house, a little to our left, behind us and many of us took shelter from the storm of shell and bullets. In the rear of the rock there was a large crevice and many of us crawled into it for safety. I was the last but one in the crevice of the rock; my legs were not sheltered. One of the boys of the battery named John Olin came along and lay his head down on my hip. He had not been there but a few minutes when a shell came from the rebels, came over and burst about ten feet from us. A piece of it hit him on the hip and took a piece out of him, as big as a saucer. He went up into the air like a bird; was afterwards picked up and carried to the rear. I did not see him for many years afterwards but one day I met him in a store on Court Street, Boston.
I had one of my horses left, tied him to a small tree when we were behind the rock. The shell that burst when Olin got hit also struck the horse and killed him. That was the last horse I had anything to do with in the U.S. Army. About four o'clock on that memorable afternoon, there were two of our horses running loose across the field. I was told by Lt. Page to go after them and take them to the rear for safety. The other four horses of that gun had been killed. I looked at the Lt. and then at the bursting shell, but I had been long in the service at that time to know what the first duty of a soldier was. I started and in a short time, I had captured my horses.
The road in the rear of us was a fork road and had been used all day to reinforce our troops and the rebels knew it well for they poured the shot and shell there for all they were worth. I had not gone a great distance on the road when a shell passed as near as my head as I wanted it. The first thing I knew was "nothing". It fell within a short distance from me, then burst with great force. Pieces of the bursting shell struck me on the left side and left elbow. I was senseless from the concussion of the shell; I fell between the horses with one foot in the stirrup. The horses started on the run with me on the ground but soon came to a halt in front of a cavalry man, who was stationed in the rear to look after stragglers. I know not what became of our two horses, for I have never seen or heard of them since.
The next morning I found myself lying under a disabled gun carriage with another man along side of me. We had been placed there by the cavalry man, who gave us water and did what he could for us. The next day was July fourth and it rained in torrents. My newly made comrade and myself knew we would soon be taken care of. We also realized that we were not alone on the field that night. In due time, the ambulance corps came around and picked us up. We were taken to a large hospital tent on the field of Gettysburg. The doctors went to work and did what they could for us. I left my comrade there and I have never seen or heard from him since but I have often thought I would like to see him and drink from the same canteen.
I was taken and put in a large farm house. I found the house full of wounded and some of the wounded belonged to my own company. Three of our boys died of their wounds that night in the farm house and were buried in the field behind the house next morning. The man that owned the farm came along while the boys were digging the graves and said "put them down deep enough, so I won't plow them up in the fall." I think he was fortunate that he was not put into a grave shortly after, for I noticed the boys looked at him pretty sharp.
On the following morning we were taken from the farm house to Gettysburg and quartered in a church. We lay in the pews' in fact, the church was full of wounded soldiers. The night was warm and the smell from the bleeding wounds was intense and many a soldier boy breathed his last in the church that night. On the morning of July 6, the battery with what of the men were left, started in pursuit of the enemy. The officers and many of the boys, came where the wounded boys of the battery were and bade us goodbye. It was hard to part with our old comrades but such was the life of a soldier. Some of the guns of the battery were brought off the field by hand on the night of July 3 for the horses had been killed or disabled, but when the battery left Gettysburg, they had a fine set of horses that had been confiscated from the farmers. On the eve of July 6, the wounded that were in the church were taken to the depot, put into freight cars and shortly after, we started at a low speed for Baltimore, Maryland.
We arrived in Baltimore about six o'clock next morning, feeling thankful that we had come to a stopping place. We found many of the streets barricaded and the citizens doing what they could, to make it comfortable for the wounded. Many of the citizens took the wounded to their own homes and did what they could for them.
I know a lady took a comrade and myself to her home, dressed our wounds, washed our faces and gave us a good breakfast. Afterwards we were taken to a hospital in Baltimore. We found out after we got there, that the hospitals of that city were over crowded.
We were put on the cars and sent to Philadelphia, Pa. We arrived there about nine o'clock a.m. and many citizens were waiting at the depot to do what they could for us. We were taken to the "Cooper Dining Rooms" and cared for. The houses were thrown open to the soldiers that night; nothing was too good for us. The most of us were somewhat ragged and covered with Virginia mud but they did not care for that. They would have killed us with kindness if we had stopped long enough.
After a short stay in Philadelphia, we found ourselves in the depot waiting for the cars to convey us to Germantown and Chestnut Hill Hospitals. Some of the wounded were taken off the cars at Germantown and the remainder of us were sent to Chestnut Hill, about three miles further on the same road. I sat in the car with a man who was wounded in two places; he had two bullet holes in his body and he came very near having the third one more severe but a small prayer book in his breast pocket of his shirt saved his life. A minnie ball struck him on the left breast and lodged in the center of the book.  He showed me the book with the bullet in it. His breast was black as powder.
On our arrival at the hospital, we were washed, examined, and given a clean shirt, etc. and put to bed. All our clothing that we had on was taken from us and I have no doubt but what it was burnt, for I think if it had remained on the floor, it would have walked off. To me, the hospital looked like a prison. There was a high board fence all around it and a guard stationed there to keep the men from getting out. It was built on a circle contained sixty wards and 60 cot beds in each ward. In the center of the circle was the doctor's quarters, nurses apartments, supply rooms, etc. Each man was assigned to a cot bed in the ward; at the head of the cot on a piece of black tin, was his name, regiment or battery, what he was there for and a general description of the man, in what battle he was wounded, date, etc. There were four men nurses to each ward and one ward master. It was a common occurrence to see the nurses carrying out from one to four dead every morning. They would carry them out just as fast as they had died on their mattresses.
One night a comrade died; the next morning as the nurses were taking him out of the ward, one of the boys who was lying on his cot severely wounded said to the nurses as they passed by "Look at him, he has got his hand out, waiting for his bounty." The poor fellow had died as he lay on his mattress, with his arm out and his hand open. In the night it was a common occurrence to hear some of the boys crying with pains from their wounds. Some would call for mother to come and take care of them, others would want to die before morning, etc. Pretty soon you would hear some of the boys say "Shut up or I will throw my shoes at you" etc.
The weather while I remained there was very warm and we suffered with the heat; we were fed on soups, beef, lamb, etc. Twice a week we were given a bottle of porter for dinner. At times, it was laughable to see those who were able to sit at the mess room table. At times we would have something on our plate to cut with a knife. We could not do it with one hand; we would pair off; some would have their right hand and the other, the left. Then we would help one another carve.
After a stay of three months at the hospital, I began to feel like myself. We could get a pass once a month to go out of the hospital for a few hours. If a man did not report back on time, his name was placed on the blackboard and he could get no more passes for some time. In the month of October, many of us were much improved and were sent to what was called "Camp Convalescent" at Alexandria. Some of the boys called it "Camp Misery"; others had christened it "Camp Louse". There we found after our arrival, a great many soldiers that had been sick or wounded, mostly all from the Army of the Potomac. [Photo: Alexandria. Va. Cooks in the kitchen of Soldiers' Rest ]
The camp was pleasantly situated under command of a General of the Army and many Army Surgeons. The camp was lain out in streets, named after different northern states. The quarters were long wooden buildings in a row on each side of the street. The different State troops were quartered by themselves. Twice and sometimes three times a week the men were examined by the surgeons and those that were pronounced all right were sent to their regiments or batteries at the front. We were well cared for at this camp.
I saw many things that were laughable while I was there. In the barracks, the bunks were two tier deep and two men in each bunk. Opposite to my bunk, there was a man belonging to the 20th Mass reg't; a strong robust looking fellow. One afternoon the surgeons came around to look the men over. They went to him and told him to get ready to go to his regiment. He told them he could not march for he had a bad toe. They looked at it and told him they would call later and see him. The next day they came around to him and told him to lie down in his bunk, which he did. They then put a sponge with chloroform to his nose. They thought he had taken enough. When they took the sponge away, up he jumped and his head lifted up the loose boards in the upper bunk. There he was; could not get one way or the other. After a while, they got him down, gave him another dose and put him to sleep. You could have heard him blowing out on the street. They split his large toe nail down the center and then cut all around it, took their nippers and pulled the nail off. It was not many days after that he buckled on his knapsack and went marching along to his regiment.
Every morning the bugle would blow the sick call and all those who wanted medical treatment would fall into line, and the sergeant in charge would march them to the doctor's quarters. Some, after they got there and were waiting to see the doctor, would amuse themselves by striking their elbows again on the building to make their hearts beat faster. Others would have sores on their bodies or limbs, caused by putting a copper cent on, and then bandaging it tight, some time before. The boys were up to all kinds of tricks for a discharge. General Daniel E. Sickles was in this camp, when I was there, he having lost his leg at Gettysburg. [Photo: Portrait of Maj.. General Daniel E. Sickles officer of the Federal Army]
One morning the doctors came to look the boys over. They came to me and looked me over, asked me how long I had been in the service, etc. They told me I was not fit to do active service and that I could go home or if I had rather, I would be transferred to the invalid corps. My preference was "Home Sweet Home."
One week from that day, my discharge came from the United States Army. I think the last week of my army life was the longest I ever felt for I could not sleep, day or night, thinking of coming home. The later part of October I vacated the convalescent camp with my discharge in my pocket. There were others from Massachusetts discharged at the same time and we started for home together. We were taken to the treasury department, in Washington D.C. and paid off. Gave me one hundred dollars, U.S. Bounty and six months back pay. I came home to where I started from, somewhat broken down in health but feeling glad that I went and thankful that I was spared to get home as well as I did. [Photo: Washington, D.C. Infantry unit with fixed bayonets followed by ambulances passing on Pennsylvania Avenue near the Treasury.]
During my term of service, I saw many men that had been wounded but I think the worst I ever saw was in New York City while waiting there for transportation home. We were taken to the sanitary commission rooms. I saw a man there waiting to be sent home. He was a member of a Rhode Island battery. Both of his legs, both his arms and his eyes gone. He sat there on the head of a cask, waiting to be carried to the depot. There was a card pinned to his blouse as to pass him along to his home.
Tobacco at times was a scarce article in the army but we had one of our number by the name of Weltch who always when there was an opportunity, looked out for himself and his comrades. On our march through Virginia, Maryland and Pennsylvania, we would pass through towns and small cities and as we passed along, the girl and old folks would be standing on the sidewalks. Some of the folks would be smoking their pipes. Our comrade would go up to them and ask for a chew of tobacco. He would put it into his pocket and go to another and beg more. When night came on and we got into camp, he would have a pocketful of chews that he had begged during the day. A few of our number, while in camp at Falmouth, got a furlough for ten days to come home and see their folks. The first man that got a furlough to come home, never came back; was told he went to Canada. Last I heard of him he was in the junk business. On the 3rd day of October 1864, the term of service of the 5th Mass. Battery expired. Some of the men previous to this had enlisted and came home on a furlough. They went back but many of them never returned for they were killed in front of Petersburg, Va. The organization of the 5th Battery was kept up until the close of the war and during that time we had hundreds of names on our rolls and over one thousand horses.
We had a lieutenant in the battery; a good and brave soldier; he told the boys in camp one day that he felt that he was going to be killed in the next fight and he thought he would resign and come home but the boys talked and laughed him out of it. He thought if he came home, he would be called a coward, so he remained with the battery. Shortly after, a portion of the battery was placed on picket in front of Petersburg and he was in command; was in a position behind some breastworks. Had been there a number of days and nothing doing but hearing a stray shot from the enemy's guns once in a while. One morning he crawled up to the top of the breastworks to see if he could see the enemy. He had no sooner put his head up to look over, when a minnie ball went through his head. He rolled down to the bottom of the ditch, a dead hero. That was the last of our Lieutenant Pelep W. Blake of New Bedford, Massachusetts, in 1861.
Days and years have passed since the 5th Mass. Battery left Massachusetts for the Seat of war and often I meet some one of the old boys and talk of days gone by. To some it may seem like an old story to talk or read about the war of the rebellion but to us it was no old story, when we meet old soldiers who have lost their health and limbs in fighting for the best flag that ever floated to the breeze. Many of the old boys that were spared to return home, have gone to answer to the roll call above and those of us that are still left, try to meet one another once a year and we cannot help thinking and talking about those blood stained days of years ago. As we look into the faces of our old comrades, we note the fact that time had left his traces there; wrinkles have taken the place of youthful bloom, silver threads in the raven locks or a vacant spot on the cranium, tells the owner of the aforesaid [head], it is in the condition of "Old Uncle Ned" whom the plantation song describes as not having any hair on the top of his head in the place where the wool ought to grow.
By these tokens, we are reminded that unless some of us who participated in those scenes, commit to paper, our recollections of the incidents which have occurred, we shall pass off the stage and many things of interest will be lost to posterity. But who will tell of our fun and frolic? Who will relate to our children and our children's children, that inner history which made camp life endurable and helped to soften the asperities of cruel war?
When they read of battles, of long marches, of the wearisome miles traveled by foot sore men, when they are told of short rations and scanty pay, they will be apt to form the opinion that the men who constituted the army were a stem and solemn band whose hearts continually burnt for conflict and whose eyes constantly gleamed with hatred for their foes.
Men whose sufferings and hardships had made them gloomy and morose, when, in point of fact, a jollier set of men never lived than the soldiers of 1861-1865.
William Archibald Waugh 5th Mass. Battery E. 1st Brigade - 1st Division - 5th Army Corps